FILM KUTUK DISINYALIR JIPLAK THE NUN ?
Nontonapa – Film Kutuk yang akan tayang pada 25 Juli 2019 ini, belakangan banyak jadi bahan perbincangan warganet. Menariknya untuk kali pertama Shandy Aulia menjadi tokoh utama sekaligus produser dan penerbit film horor ini. Belum juga rilis di bioskop, membuat warganet mencibir poster film Kutuk karena disinyalir pelagiat dari film The Nun.
Jika sejenak diperhatikan lebih detail mungkin memang ada kemiripan. Menurut warganet yang menuliskan komentarnya pada kolom komentar instagram akun @igtainment mengatakan "sama-sama biarawati, wajahnya dibuat dengan dua sisi yang berbeda, huruf N dan K di depan dan belakang sama-sama dibuat terbalik rupanya".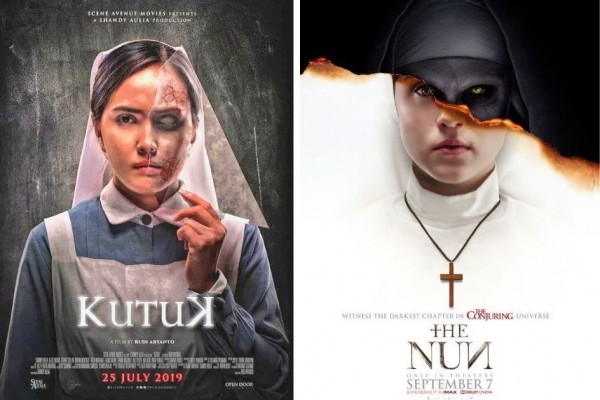 Namun ada juga sebagian warganet yang masih bisa memaafkan dan berpikir positif. Mengira ini mungkin hanya sedikit terinspirasi saja dengan poster The Nun bukan juga dengan alur ceritanya. Ada juga yang mengira ini hanya untuk bentuk pengalihan publik sebagai strategi marketingnya saja. Yang jelas kita perlu menonton dulu filmnya, baru bisa berkomentar dengan fakta yang ada. Nantikan 25 Juli 2019 ya!
Tags :
Kutuk
news
The Nun